14.05
Caution and Determination at WIDE x CROSS x albert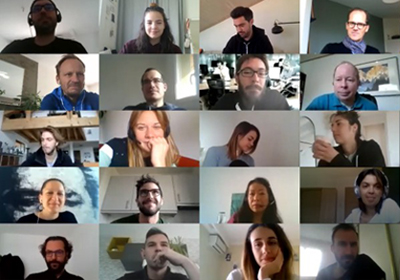 In recent weeks, like half of the world's population, we have been experiencing a situation full of uncertainty. And we have no choice but to accept it.
In recent weeks, like half of the world's population, we have been experiencing a situation full of uncertainty. And we have no choice but to accept it.
Every day brings its share of emotion and turmoil.
Every day we have to reassess our feelings, our hopes and our doubts.
Every day, we hear forecasts, without knowing exactly where we are today and, above all, where we will be tomorrow...
Stress is therefore important because we are faced with a great deal of unknown, to which we are not used to.
What we at the agency are certain of is that this period will come to an end.
So now, more than ever, is the time to join forces to cope with such adversity.
When resilience and adaptability guide us
We evolve and adapt, that's why we readjust our teams and the role of each of us, on a daily basis.
Saving some energy for a while, to maximize it according to priorities in the field.
Distributing forces in the right places and rebalancing efforts is part of our DNA.
A philosophy that nevertheless requires extraordinary agility in this time of crisis.
We are learning every day. This is why our teams are training, tackling internal issues and continuing to dedicate themselves at 100%, alongside our clients. Like them, we have also changed our agency processes.
Every morning, we meet for wake up calls through videoconference. A moment of information, sharing and happiness... essential to preserve cohesion and relationships.
In the same way, through other platforms and other tools, we have increased our vigilance on what is happening at our agency, and of course with our clients.
Trust gives rise to unprecedented solidarity
Everyone is affected, everyone is impacted. The problem is collective, and so will the solution.
The company, with the help of the State, plays its social role with strength: with and for its employees.
Today, the priority is to preserve 230 jobs. From tomorrow, they will be the driving force that will enable us to get back on track, all together, as we emerge from the crisis.
Our various entities are strongly integrated into the local and international fabric, and they are taking up an equally important challenge: supporting ALL our customers. What seems natural in times of "peace" has become even more so in recent weeks.
We fight every day at their side, for them. Supporting them and helping them to evolve, to find solutions, to detect new opportunities, to withstand the impact of the crisis... this is how we reinvent ourselves every day!
We are living in a unique moment.
Where time can be put to good use for the future.
Rethinking models and creating solutions.
We did it yesterday, we'll go further tomorrow.
The future, our main objective
"Necessity is the mother of invention", the digital will undeniably be the essential lever of the recovery. Thanks to it, links are maintained (or strengthened), entire areas of activity continue (or are created) in spite of containment.
The latest developments in China also give us confidence in the future.
The crisis highlights areas to explore, weaknesses to address and uses to rethink. Extraordinary examples of connections between people. No matter how digital they are. Technology will undoubtedly become one of the "sources of possibilities" and opportunities.
We are deeply convinced of all this.