15.02
Google Analytics 4: why migrate and how?
Last October, after months in beta version (Google Analytics Web + App), Google officially launched Google Analytics 4.
This new version succeeds Universal Analytics, and from now on becomes the "default" version for any new property creation. A real revolution is thus underway: Google Analytics now tracks more than 20 billion websites or applications.
Google Analytics: the world's most popular web analytics tool
With an estimated 85% market share, Google Analytics is by far the most used web analytics tool in the world and for good reason: it is free, easy to install (at least to obtain "basic" statistics) and very powerful. The release of a new version is therefore a real event, and Google has obviously taken care to accompany it with a large batch of new features.
Advantages of Google Analytics 4
1. A new "event centric" data model
This is the first big difference with Universal Analytics. Whereas the latter was focused on users and sessions, GA4 is event-driven and simplifies them.
No more "event category", "event action" and "event label": the events just need a name and include all the variables you want to complement them, just like a Facebook event.
The big advantage is that this model is suitable for web tracking as well as for tracking a mobile application.
Cross device and cross platform tracking
One of the major challenges in digital marketing is to obtain a clear vision of the customer journey. Of course, there are always more touch points, and the devices used by a single individual can be multiple.
Google Analytics 4 now offers the possibility of simply tracking the same event on multiple platforms, and goes further in aggregating user data for better analysis of journeys and better attribution of conversions.
More accurate tracking in the absence of cookies
In order to better understand users, Google Analytics must be able to identify users either by means of cookies or, to a lesser extent, by means of user IDs.
New rules such as the GDPR or the CCPA that require the user's consent to place cookies on their browser considerably reduce the amount of data available (although these rules are subject to interpretation, Google Analytics cookies are logically subject to consent).
Google Analytics 4 responds to this new problem:
"As the technology landscape continues to evolve, the new Analytics is designed to adapt to a future with or without cookies or identifiers. It uses a flexible approach to measurement and, in the future, will include modelling to fill in gaps where data may be incomplete. This means that you can rely on Google Analytics to help you measure your business results and meet customer needs now, as you navigate through the recovery and face the uncertainty of the future".

 
In concrete terms this means that Google Analytics 4 will use the learning machine to fill in the missing data.
Better control of user data
Also in response to the new rules on consent, Google Analytics offers better control over user data.
The automatic anonymisation of IPs (to be configured with Universal Analytics) is particularly welcome, but also more advanced possibilities with regard to the collection, storage duration and deletion of data.
More relevant insights thanks to the learning machine
For a number of years now, Google has been committed to bringing value to Analytics users by striving to provide concrete insights that enable decision making.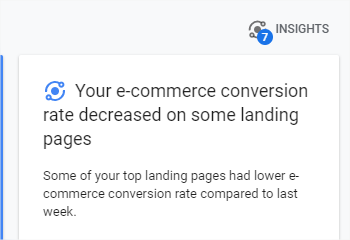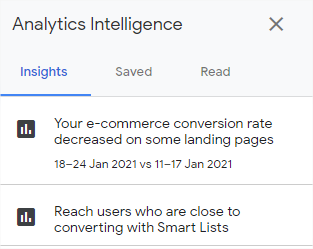 GA4 is a real Business Intelligence tool, and takes it to the next level by predicting future user behaviour, integrating data from different sources such as YouTube, in-App purchases, Google Ads, and website traffic.
A more modern interface and a simplified user experience
The multiplicity of reports and tools makes Universal Analytics complex, especially for new users:
Numerous audience, acquisition, behavior and conversion reports, in addition to real-time reports, and beta "analysis" and "attribution" reports.
Properties and views, view filters, report filters, segments, secondary dimensions, custom dimensions, etc.
With GA4, Google streamlines things and makes the interface both simpler and more flexible :
More views, more segments, fewer reports: the various reports (which use "Dashboards" templates made up of widgets or "Explorer") offer the possibility of using "comparisons" with the dimensions chosen.
Reports that focus first on the customer lifecycle: "acquisition" (first - the performance of traffic sources are usually the most consulted reports), "engagement", "monetisation" and "retention".
A more intuitive interface for the creation of custom reports, audiences...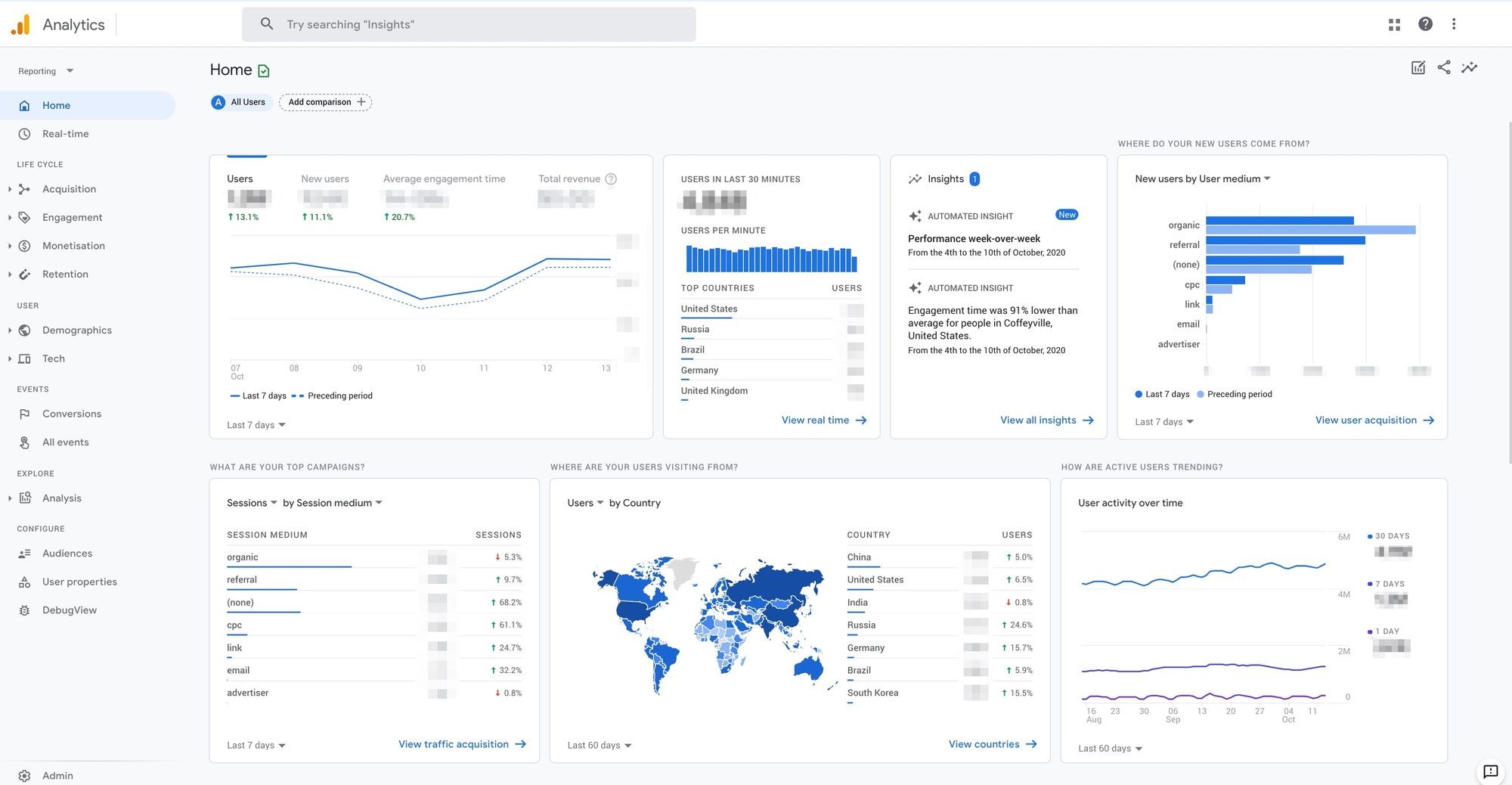 Easier tracking (automatic events) and more standardised (recommended events)
GA4 makes life easier for developers/marketers by natively tracking certain useful actions such as video playback, or scroll (which allows a more accurate measurement of bounce rate or session duration). From now on, all you need to do is activate "Enhanced measurement".
Furthermore, with Universal Analytics, it was not uncommon to track similar events using a different nomenclature between two properties. Google Analytics 4 avoids this by proposing a nomenclature for its "recommended events", for all sites and applications, or for retail and ecommerce ...
Migrating to Google Analytics 4 (GA4)
The creation of a GA4 property from the "GA4 configuration wizard" requires only a few clicks.
Nevertheless, the data collection will require more or less parameterisation work depending on your current Universal Analytics setup :
If you use Gtag, you will be able to activate data collection using your existing tags. You will therefore be able to collect standard data and even activate automatic events.
If you are using analytics.js or Google Tag Manager (GTM) tags, you will need to add a new GA4 tag.
In addition, although you will be able to reuse the dataLayer as well as the variables already created, the implementation of a new specific dataLayer remains recommended, in particular to set up e-commerce monitoring (addition to the basket, checkout, transactions) which now uses "items".
Do not hesitate to contact us for an analysis of your setup and a recommendation for migrating to GA4!