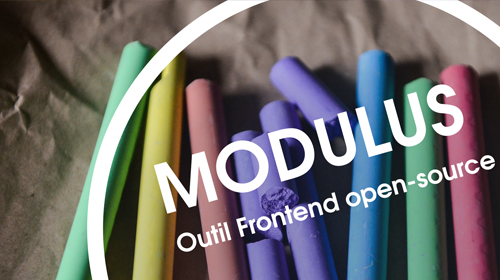 The world of web development is the fastest-evolving aspect of digital, with ever-increasing performance capabilities. However, this is frequently at the expense of market players who are often late, sometimes out of step, or even obsolete. The last 10 years have seen the emergence of responsive design, accessibility, SEO, hybrid applications and many other features that make up the power of the Web. However, this leaves companies with a major challenge: How to control the entire scope.
With this in mind, WIDE has created a state-of-the-art toolbox, named Modulus, based on the latest standards, in order to capitalise on its experience and expertise in front-end development. Led by 2 front-end developers from the agency, Aymeric Assier and Julien Martins Da Costa with support from Sébastien Robillard, this tool focuses on the most complex aspects of our business:
To automate and streamline repetitive tasks in order to focus on added value
To ensure our devices comply with AA level accessibility
To assemble libraries tested and validated by our teams
To expand functionality by creating new packages
To automatically integrate our best UX, UI and SEO practices
To guarantee robustness, durability and innovation in the long term
Modulus is not intended to solve generic website issues as other tools are better suited to do this. However, by contrast, it focuses on the areas specific to WIDE, namely accessibility, still underestimated in our market, to animation and features on luxury or sport showcase websites, e-commerce websites, compatibility with older browsers specifically for security policies, etc.
It is not just, yet another framework but a set of valuable tools carefully chosen or created by our experts, open to specific customization or the use of other external tools.
If today we talk about this tool, it's because we make it available to everyone, in open-source on github and npm ,to help our customers and their teams as well as the web developer community at large.
Modulus is a reflection of its creators, perfected and full of determination, and participation from the community is an key asset in its future development.