09.07
What is programmatic advertising and how does it work?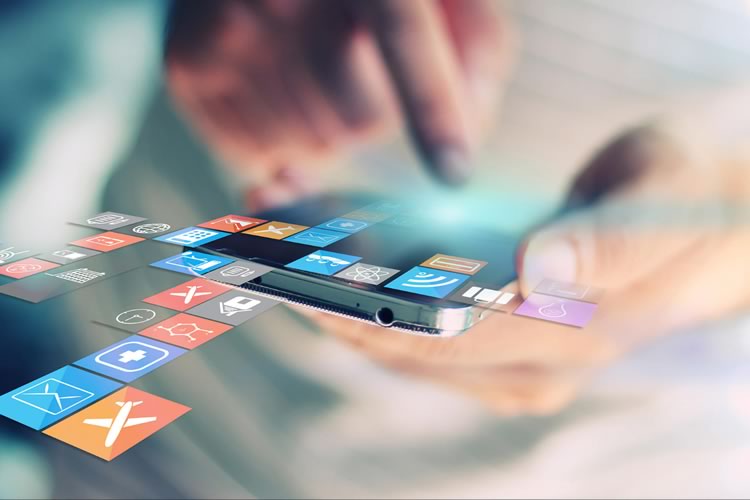 On 7 November last year, the 2nd edition of the "Programmatic Advertising Day (PAD19)" was held in Lausanne, organised by IAB SWITZERLAND. The theme of this event was: "Heaven or Hell. Is Programmatic advertising the miracle solution? ". For this occasion, our marketing expert, Olivier, gives you the opportunity to explore Programmatic Advertising in more depth. Find out everything you need to know about Programmatic Advertising and the key success factors for the 2019 campaign.
Chapter 1: Programmatic Advertising: An explanation
Programmatic marketing today represents a huge market: In 2018, 72% of digital advertising investments in Europe were programmatic advertising purchases (compared to 20% in 2013). The European market reached almost 17 billion euros [i]
Although programmatic advertising platforms are becoming essential, it is still difficult to agree on its definition.
"Programmatic Advertising refers to advertising activity whereby purchasing advertising space, setting up campaigns and broadcasting them is carried out in an automated way. [ii]
So for many, programmatic advertising was first seen with Google AdWords (now Google Ads) in the 2000s. Placing ads and purchasing them was fully automated.
As soon as selling advertising space and broadcasting advertisements was subject to a certain degree of automation, we started to refer to it as programmatic advertising. Advertising on Google Ads just like Social media Ads (Facebook Ads, LinkedIn Ads, Twitter Ads...) are all classed as programmatic advertising.
However, be careful. Programmatic advertising is not necessarily linked to Real Time Bidding (RTB). Guaranteed volumes or fixed CPMs can be negotiated and purchased automatically.
In practice, we talk about programmatic advertising when the connection between buyers (advertisers or agencies) and sellers (agencies, publishers, etc.) is made through an Adexchange.
Buyers use a purchasing platform called a DSP (Demand Side Platform) and sellers use a selling platform called an SSP (Supply Side Platform).
Publishers' inventories can compete on several Ad exchanges at the same time.
The confusion is mainly down to Real Time bidding (RTB). These represent only a part of programmatic advertising. Guaranteed volumes or fixed CPMs can be negotiated and purchased automatically (see purchasing modes).
From a strategic perspective, programmatic advertising is, first and foremost, about targeting an audience rather than a location. So, the 1st, 2nd or 3rd party data only makes it possible to place a bid if the website user is part of the audience you want to reach.
This user data is stored on DMPs (Data Management Platforms).
200 milliseconds.
This is the time that elapses between a user starting to load a web page and an ad being loaded by the publisher's Ad Server.
What actually happens?
The visitor to the website loads a web page
A location is available (Banners, Native ads, videos, audio spots etc.)
The web page is loaded
The location is auctioned off (taking into account any booked locations).
The ad that wins the auction is instantly loaded
The advertisement is displayed to the targeted user.
The user interacts. The Ad Server records the print, the click-through, as well as the user data (geolocation, etc.).
Programmatic purchasing modes
A variety of purchasing modes exist, each offering advantages in terms of flexibility as well as targeting accuracy.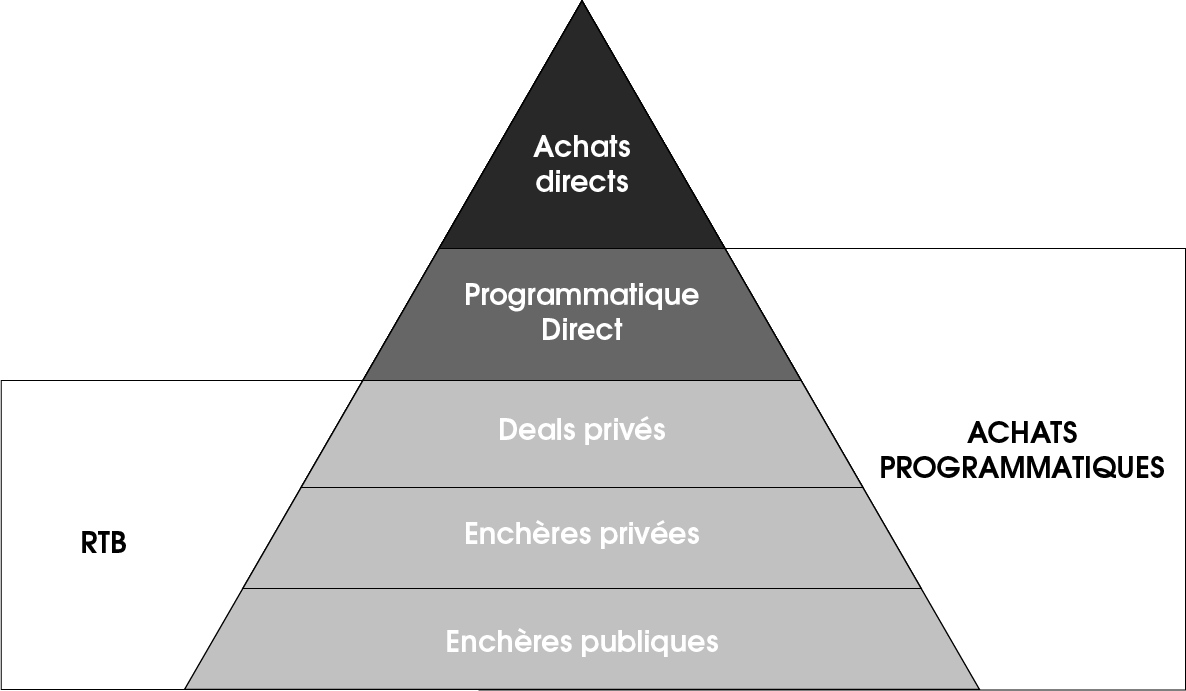 See the pyramid diagram at the bottom of the article, (which shows purchasing methods for digital advertising).
At the bottom of the pyramid are the RTB purchasing modes.
Public Auctions: When inventories are made available to any advertiser. Publishers make their inventory available with a simple "floor price". Advertisers bid freely and the highest bidder wins the print
Private Auctions: Similar to public auctions except that only advertisers invited to place their bids can do so.
Private deals: Agreements between sellers and buyers on specific locations and/or audiences.
e.g. For an advertiser: I would like to buy half-page slots on the finance sections of such and such online newspapers, specifically above the waterline.
At the top of the pyramid, direct purchases and direct programmatic advertising (or guaranteed programmatics, premium programmatics booked, automated, guaranteed, etc.) offer similar options:
Guaranteed volumes
Fixed CPMs
Negotiable pricing
Direct programmatic advertising usually gives access to premium inventories and attempts to reconcile the best of both worlds: Price control on both sides of the chain and automation of the contractual relationship, trafficking and reporting.
All kinds of inventories are available: Major media, specialist newspapers and magazines, bargain websites, topical sites, influencers and more.
If you have not outlined a specific media plan, the targeting possibilities available will help you make your selection.
The targeting and cross-targeting opportunities are endless. The only limitation is the potential reach once the cross-overs have been executed.
Geographical targeting
Language targeting
Contextual targeting: Based on the media page content (e.g. a site that talks about recent snowfalls)
Topic-based targeting: Based on the topic the publisher is handling (e.g. a magazine specialising in cycling)
Audience-based targeting...
Audiences: 1st, 2nd and 3rd party data
The correct use of data is, in many cases, the foundations of a successful campaign.
1st party :This is your data. This includes retargeting your visitors, and your "onboard-enabled" CRM data.
2nd party :  This is similar to 1st party data, however, for a different company. It is the data of a partner who agrees to merge its audiences with yours for mutual benefit.
3rd party : as their name suggests, "third party" data. Whether it is declarative or detected data, it is data from publishers who choose to monetize their data. It is encrypted, then grouped into "DMP audiences" accessible directly from the DSPs and invoiced to the CPM.
Programmatic advertising purchasing is traditionally associated with displays and banners.
In reality today all kinds of locations are purchased through programmatic advertising:
Vidéo (inread, preroll, in banner…)
Audio features (online radio, musical streaming etc.)
Native Ads…
In addition to these web formats, some TV inventories or displays (DOOH) can now be purchased in programmatic advertising format.
In Switzerland, for example, the first programmatic DOOH inventories will be sold at a fixed rate at the end of the year (but will still only account for a small proportion of sales).
The digital advertising market is undergoing a major transformation, driven by new technologies and more mature advertisers, with an increasing focus on their return on investment.
As a result, new challenges are emerging for publishers and advertisers alike.
Measuring up against GAFA
In France, 85% of investments in digital advertising go to Google and Facebook.
In Switzerland, their combined market share represented around 60 to 65% in 2018.
In order to exist and propose an attractive offer that stands up to GAFA's "crazy reach", publishers need to join forces.
It was with this in mind that  Mediasquare  was created (a merger of La Place Media and Audience Square). Marketplace brings together the inventory of all the major players in  French media apart from Canal+ and thus makes it possible to reach 85% of FR Internet users.
As far as Switzerland is concerned, it is, of course, the Tamedia and Goldbach union that has grabbed our full attention. In addition to offering a reach close to that of Facebook, data sharing offers ever richer targeting possibilities.
Adapting to changes in media consumption
The print press crisis has significantly changed the Swiss media landscape. Digitalisation is on the way and major media have shown a real ability to adapt to new applications.
Still, new challenges await them: Millennials, digital natives who have grown up with diverse digital solutions, do not consume media in the same way. They don't use the same networks, they don't get information in the same way and they look for information in different ways too. Streaming audio and video is part of their daily life…
Valuing the media offer within a huge range of advertising solutions is not easy, and neither is maintaining price levels for premium sites.
Technology
Certainly the most difficult of challenges.
Sellers of advertising space need to be able to offer high-quality, non-intrusive, rich formats……
In addition, it is essential to make it easy to reach new advertisers (both large and small). Both Facebook and Google have understood this and work on simple interfaces, while enabling advanced features (contextual targeting, intentional targeting and retargeting) and even more by making it simpler to create advertising messages (in particular, video).
Both Admeira and Tamedia have followed this model and have both opened up advertising platforms that do without DSP.
Although the possibilities offered by these self-service platforms are still limited (the choice of inventory is limited, as are the available formats and targeting options), it is highly likely that they will evolve rapidly and attract a growing number of advertisers.
The fight against fraud is also a major issue. Brand safety solutions such as Integral Ad Science  provide control for advertisers. Nevertheless, publishers must also be active in this fight by providing more transparency regarding the inventories sold through programmatic advertising, by implementing an Ads.txt file system, or by using ads.cert. So they certify their inventory to some extent as well as adding value to it.
Data
As we often hear, we have moved on from a media planning era into a new era of "audience planning".
In fact, for us, the combination of the two is the key to a campaign's success. However, in order for publishers to attract advertisers, they must be in control of their data and be able to combine it to create audiences that meet advertisers' demands.
Technology
Faced with the complexity programmatic advertising, the first difficulty for an advertiser is to choose the right technology, in order to have access to the inventories and data which best meets their objectives.
Next, the challenge lies in the ability to buy prints that are highly visible, or that will deliver good click-through rates.
Cases of Swiss advertisers integrating an "inhouse" DSP are still rare. However, even when it comes to choosing an agency/trading desk the question about the technology used must be asked:
How can the ad exchanges be accessed? And DMP audiences?
What are the possibilities of using your 1st party data on the inventories you would like?
What about reporting? What are the options to measure the visibility rate for ads? And tracking conversions?
Is cross-device targeting possible?
What are the fees?
…
Content
A campaign's effectiveness depends, first and foremost, on the quality and relevance of the concepts published.
"The right message, the right person, in the right place at the right time". In that order…
This requires not only a good creative concept, but also a concept tailored to the digital formats and distribution channels selected. From there on, bringing together different experts to collaborate is essential: UX designers, strategic planners, creative designers, art directors, media planners and more.  We unite a host of different specialists at WIDE to ensure all aspects of a campaign are covered.
Targeting
Successfully finding the right mix of site-audience-context requires a great deal of experience and knowledge of the channels.
These channels, and consequently the points of contact, are becoming more and more diverse.
Successfully combining complementary sources based on the prospect/customer profile and life cycle, and sequence the messaging across different media.
This is the key factor in ensuring digital advertising is successful.
To do this, using Remarketing and first party data (CRM onboarding) correctly is essential, so much so that many advertisers are equipping themselves with DMP or are planning to do so in 2020.
However, be careful: Purchasing certain inventories will not be compatible with data use on a DSP. It is therefore, important to approach the agencies we are interested in to set up long-term mechanisms.
Privacy Protection
Last Last but not least, protecting privacy is a subject that cannot be ignored. For companies selling products or services in Europe, the GDPR already limits the use of advertising cookies, and even statistics.
In Switzerland, we're concerned with recommendations from the Swiss Digital Initiative.
Beyond legal obligations, privacy protection is becoming a concern for users and therefore, a factor to be taken into account by advertisers.
WIDE |Switzerland has been operating as an independent trading desk for over 3 years.
We place performance as well as respect for our clients' brand image as our top priorities.
As a 360 agency, we design and manage multi-channel campaigns.
We combine all the necessary skills within the same agency in order to offer a complete package, from design concept to on and off-line media purchasing.
We work seamlessly with our clients to create meaningful and consistent experiences for their users.
A big thank you to Mickaël Bonenti (Key Account Manager for Digital at Tamedia Advertising) for his invitation to PAD19.
[i] Source : « Programmatic ad spend in Europe 2018" -  September 2019 – IAB Europe
[ii] Source : https://www.definitions-marketing.com/definition/publicite-programmatique/