Cases.
Communication campaign, Save a Life
Communication support for our partner Save a Life.
The project
In 2018, WIDE and Save a Life meet for the first time. Sébastien, director of the association, presents their project to launch an application to save lives in the event of cardiorespiratory arrest in the canton of Geneva and more specifically explains the need for a partner to help them in their communication. WIDE joins the project directly!
objectives
Understand the Save a Life organisation in order to give them our support in terms of advice but also in terms of production.
Identify their targets
Studying their different needs and prioritising them in order to be able to act before / during and after the launch of the application.
Maximise its notoriety on the Geneva territory.
Meeting an organisation's needs in terms of resources
Supported by major players in Geneva such as the HUG (Geneva University Hospitals) and Centrale 144, the Save a Life project is ambitious. In addition to a consulting mission, our teams must be a resource reinforcement for their communication team. A working methodology will be presented to Save a Life so that our resources can be integrated into their team as smoothly as possible.
Mission n°1 - setting up of a commercial slidedeck
In addition to the application, Save a Life offers many other services, always helping to save lives: installation of defibrillators in strategic locations for municipalities, first aid training, first responder training, geolocation of defibrillators...  It was therefore necessary to work on a presentation support that would allow both the employees of this organisation and the volunteers to give the same speech using a common support: a commercial slidedeck.  Various skills were mobilised for this work: from design/writing to understand the needs and transcribe them, to artistic direction to be able to enrich the existing graphic charter and apply it to this first medium.
Mission n°2 - creation of a website
Save a Life needed to increase its presence on the internet. The information website https://www.save-a-life.ch/, created in Wordpress, was quickly launched and presents the various actions and missions of Save a Life as well as the possibility of making a donation for those wishing to support the project.
Business activities: UX / Design / front and back end development / E-marketing.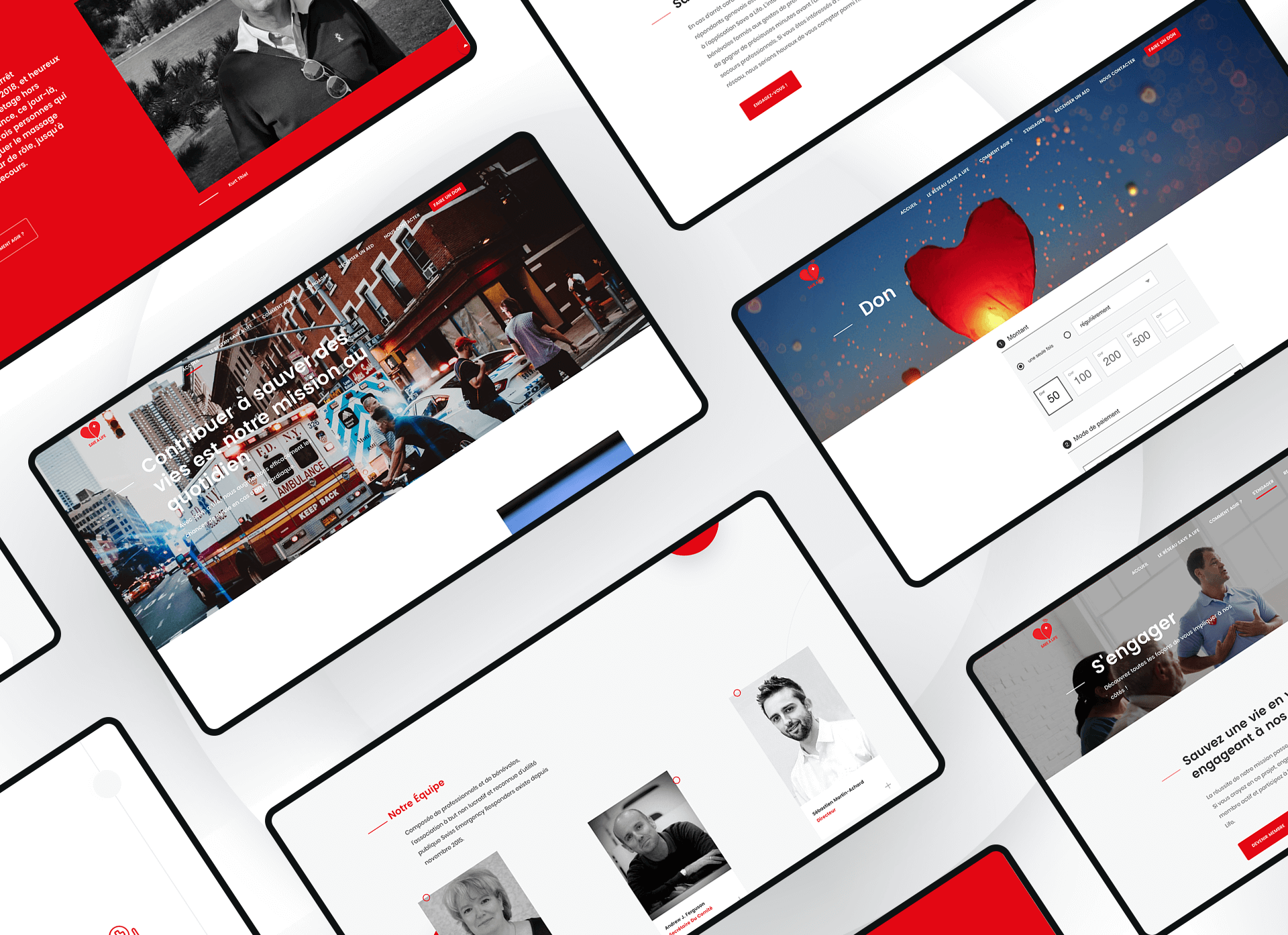 Mission n°3 - creation of guidelines and social network animations
To gain ground on social networks, Save a Life is moving towards Facebook and LinkedIn. An initial work of understanding the needs of their targets is carried out upstream by our teams, before proposing guidelines based on content pillars and a calendar of publications. 
Thus, once a week for two years, our teams took control of their networks by publishing posts on various themes, reaching different targets and having different scope. 
One of them, belonging to the content pillar "The gesture that saves", was an unprecedented success on LinkedIn: the internet user by typing twice on the "mime" post the first essential gesture in the act of resuscitation: cardiac massage. At the same time it helps to spread this vital message to its network which concerns us all. When the vital uses the viral, in a few weeks it gives 35319 likes and many shares!
The social media results :
105
respective publications
on both networks, in two years
+2160
subscribers on LinkedIn
in just one year
+1520 
Facebook subscribers
between September 2018 and August 2020
35319
is the number of "organic" likes
on one of our posts "Le Geste qui Sauve"
Mission n°4 - to raise awareness among the Geneva population of the risks of Cardiorespiratory Arrest.
To raise awareness among the Geneva population and encourage them to get involved in the cause, WIDE has worked on the development of a motion design advertising spot broadcast on their social networks. An important story-telling work has been carried out: raising awareness among the population, capturing the public's attention through the writing of reality ... and through a differentiating graphic treatment.  The writing of the real then passes through a poignant testimony. The graphic treatment brings softness and poetry, entering in opposition with the dramatic scene presented. Discover the spot below: