Cases.
easyGym
360° digital support
The project
After winning the invitation to tender, WIDE has been overseeing easyGym's digital operations since early 2021. Acting as a full-fledged business partner, the agency handles a wide range of operations, including media design and production, social media, community management, UX, website/mobile app development, webmastering, SEO, Analytics, etc.
Our role
Advice
Creative concept
Copywriting
Social Media
Production
E-marketing
Project management

Background
A brand within the easyJet group, easyGym landed in France in 2019 with a plan to develop more than 150 gyms over the following 3 years. The concept was initially developed around the country, with 14 clubs being opened before the brand's successful launch in the French capital in late 2021. Since then the brand has continued its development, and is set to have around thirty clubs in operation by the end of 2022.
easyGym preaches the concept of Smart Cost (as opposed to Low cost), i.e. low prices but with a full range of services.
easyGym also embodies a certain vision of sport as something that makes people's lives easier: fitness is a lifestyle that allows you to feel good, both in your mind and in your gym gear. It's about a positive mindset that says anyone can make it, focusing on the benefits of sport rather than training for the sake of it, and talking about fulfilment rather than pain and gain. Overall, it's a feel-good brand with a touch of humour and a distinctly human-centric approach: the antithesis of empty gyms filled with rows of machines.
Creative design and production of national brand campaigns
The agency designs and produces the brand's promotional campaigns in their entirety, in accordance with the pre-defined annual marketing and communications plan. The concepts created are adapted across all digital formats, as well as inside the clubs during key events or campaigns.
The campaigns riff on current trends and resolutions pertaining to sport, giving each one an easyGym twist and using a tone that is both audacious and easy-going. For example, the widely coveted idea of the Summer Body was reworked into our "Summer Buddy" campaign, while Black Friday became "Pack Friday"; in September, a challenging period when folks struggle to get back on the fitness horse after the indulgence of their summer holidays, easyGym had the answer with its campaign entitled "La rentrée, ça fessier" (a play on words in French, implying that the way to overcome the post-holiday funk is to work on building buns of steel).
Production of launch campaigns for new clubs
The agency supports the brand in the development of its network of clubs, guiding franchisees through the implementation of their digital communication tools and media, as well as in the production of their digital launch campaigns (pre-sales and opening events).
The agency notably supported the deployment of the easyGym concept in the French capital, with four clubs being opened around Paris (including a flagship at République).
Media support
The agency supports easyGym in its digital initiatives, whether this be via national promotional campaigns, the opening of new clubs, network-wide SEO campaigns for the brand's narrative, or local BtoB campaigns for the recruitment of fitness instructors. 
Media strategy, media plans, detailed production plans based on campaign typology and allocated budget, set up, steering, optimization and reporting – the agency manages every aspect of every national campaign, from beginning to end.
In 1 year, no less that 22 media campaigns have enabled the brand to gain 2500 new members directly as a result of our advertising, all with an enviable average CAC coming in below the objective set by the client! Digital media is a crucial pillar for the brand, with 26% of its website sales coming directly as a result of our media campaigns.
Social media & Community Management
The agency has designed and implemented a brand discourse that sets easyGym apart and strengthens its personality, generating brand engagement, informing customers, showcasing easyGym's fitness offering and supporting its key commercial initiatives. The agency provides the brand with a social media presence, enabling it to enhance and harmonize communication at the national level, and to use social media as a business lever in order to recruit new members to its clubs.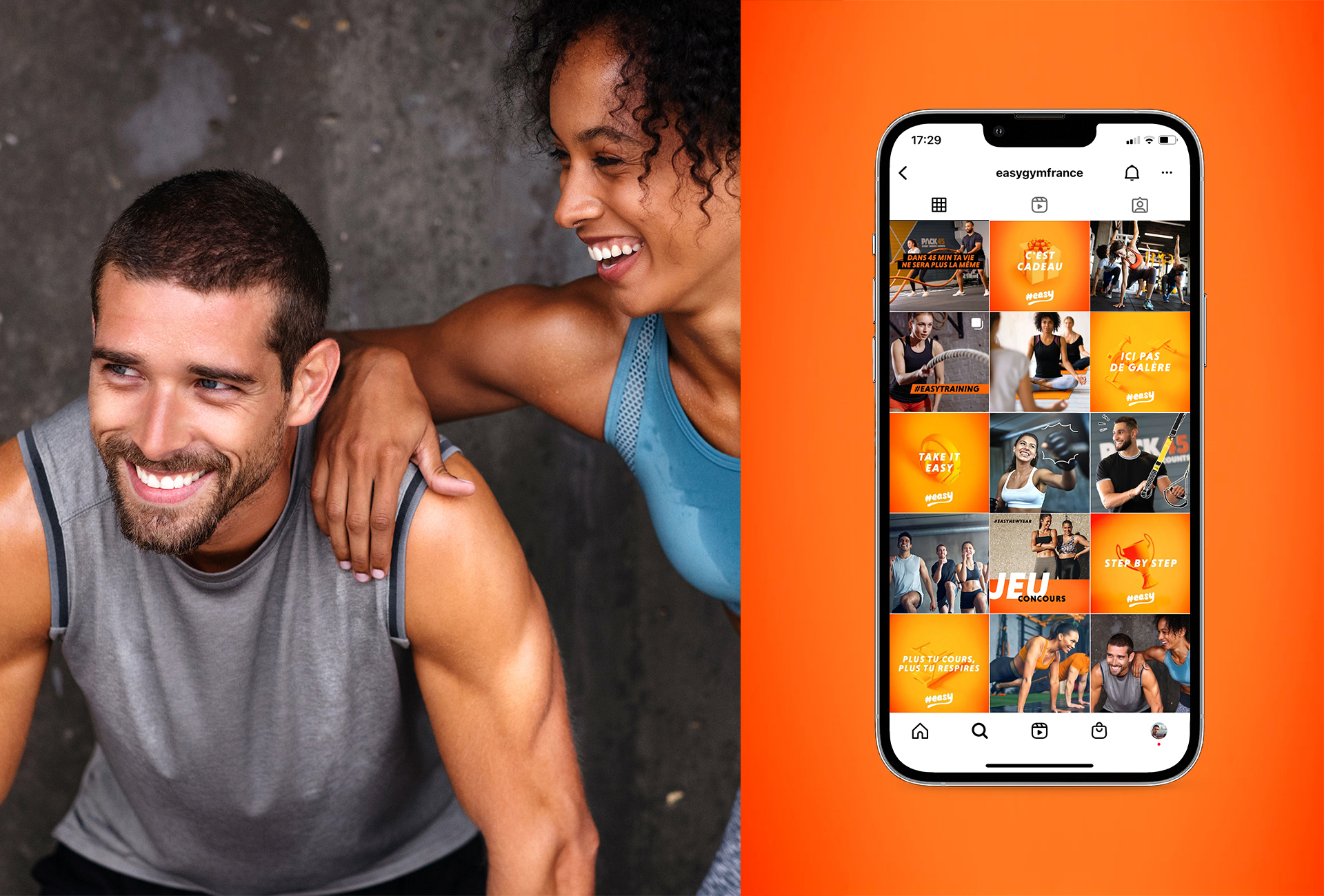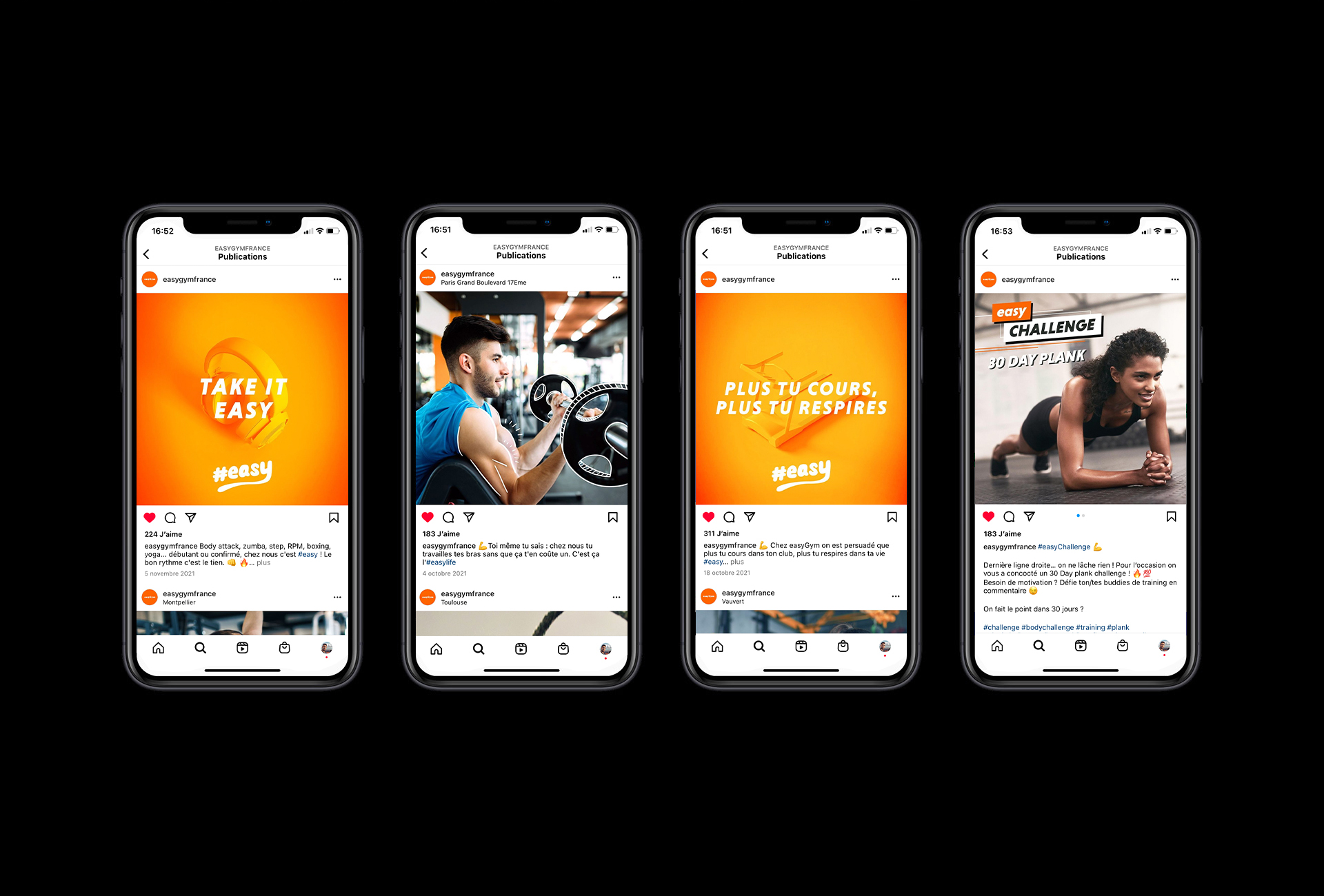 Tasked with the development of a content strategy and an activity calendar, as well as the design and production of content and videos, we constantly strive to redouble our creativity in order to appeal to both subscribers and our peers.
Being also tasked with community management for easyGym France's Facebook page and Instagram account, the agency's content publication and community management plays a pivotal role in terms of the brand's customer service, with over 7000 private messages, comments and ratings being processed over the course of a year.
Indeed, in 2022 this teamwork received recognition in the form of an award for "Meilleur de la pub" in the "content marketing and social media" category.
E-commerce site
After selecting WIDE to manage the brand's digital communications, easyGym also tasked the agency with overhauling the e-commerce section of its new easyGym.fr website, whose main objective is tomanage online sales of gym memberships for the easyGym network.
This involved the definition of a new tech stack, UX design and development. The agency also oversees all maintenance and webmastering, as well as providing SEA to generate traffic for the site.
We opted to develop a tailor-made e-commerce website on Sylius (a solution based on the Symfony framework) in order to address the highly specific needs of the fitness sector and easyGym's offering, and to support the development of its network of clubs. This solution notably facilitates subscriber management (around 15,000 membership accounts are managed via the platform) and the management of promo codes. For payment management, we opted to integrate the Stripe solution.
The major design challenge was building an optimised sales tunnel in order to showcase easyGym offers, while also integrating the brand's various promotional campaigns and ensuring the most effective possible conversion rate. The result: over 8,000 memberships have been purchased via the new site since November 2021.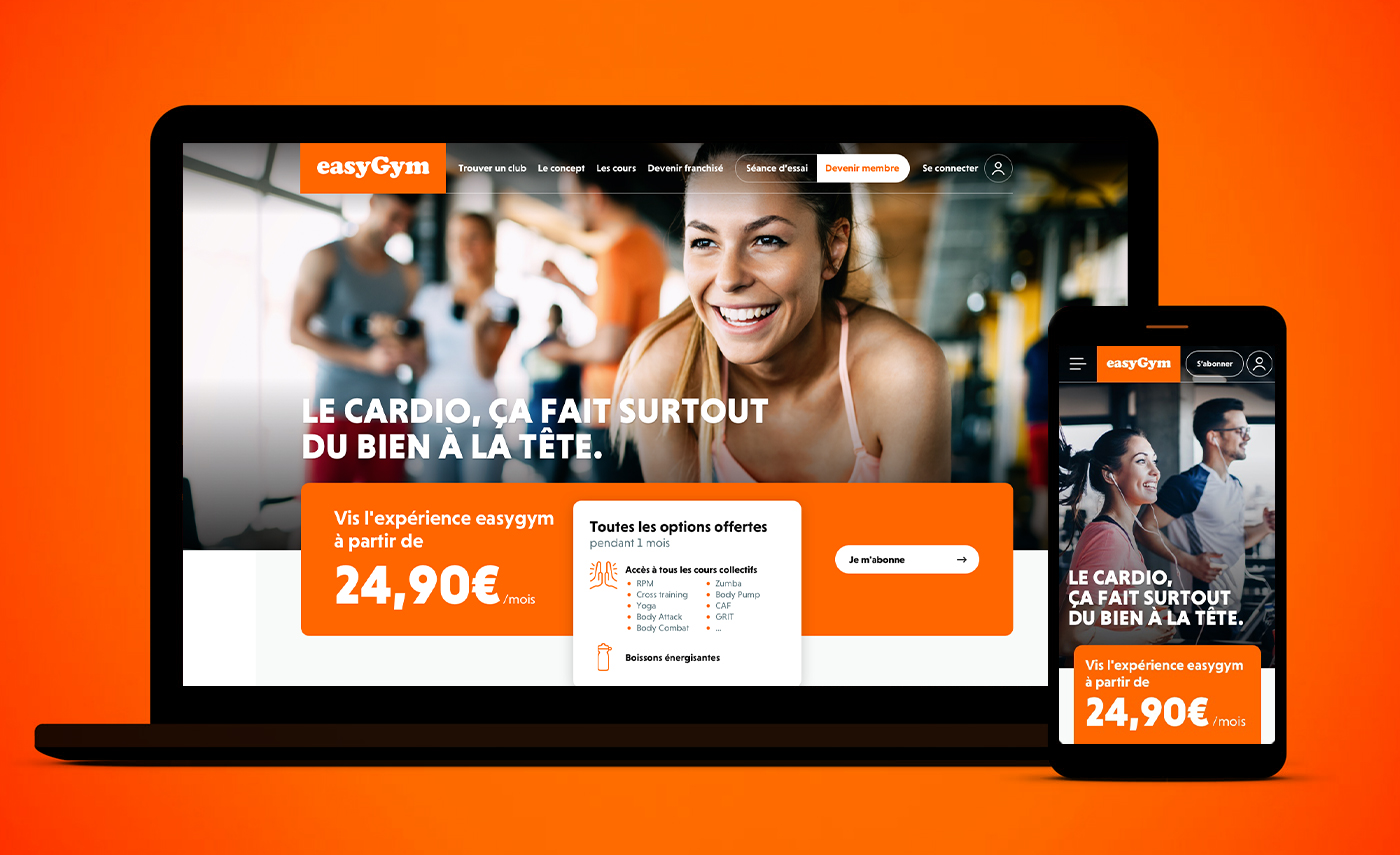 Mobile app
Developed within Ionic, the easyGym mobile app enables us to manage gym entrance checks and fitness class bookings, all while offering a fluid and simplified customer experience.
We chose to integrate the Snapshift solution for the the management of class bookings (weekly management of the schedules for 80 group classes throughout the network of clubs) and the Welcome R solution to manage QR codes to be scanned at gym entrances. For the booking system for group fitness classes, we developed a made-to-measure module.
A huge thank you to easyGym for their continued confidence over the past 2 years!
8000
subscriptions purchased online since November 2021
26%
of sales on the site are from campaigns
1
"Meilleur de la pub" Award